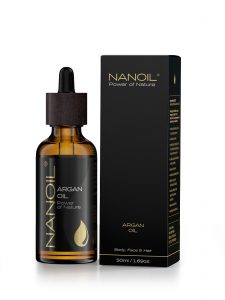 Argan oil, an irreplaceable product in terms of daily hair, body, face, fingernail and even eyelash care. The cold-pressed, unrefined and certified one is the most precious, therefore Nanoil Argan Oil makes the excellent choice when you want to improve your looks and take care of yourself. If you are looking for a multi-task and effective cosmetic, then get yourself ready for one of the biggest surprises of your life. Give Argan Oil a try and feel the power of nature on your skin!
Application: Beauty Argan Oil by Nanoil can be applied in many ways. Basically, it's an alternative to the majority of regular beauty products – conditioners, serums and masks. This oil is proved suitable for being introduced to daily hair care: putting the oil on dry or wet hair, before or after shampooing or letting it sit overnight are just a few possible ways of using pure argan oil. It's worth realizing that Nanoil Argan Oil can be applied either solo or used as a constituent of homemade cosmetics like for example a base ingredient of hair regenerating mask.
Action: What can be expected due to regular application of Nanoil Argan Oil? This is a multi-purpose product which solves most common hair problems (also those affecting scalp). What's crucial, argan oil deals with the ailments in an entirely natural way.
Improves hair miniaturization and nourishes.
Strengthens hair bulbs and consequently reduces hair loss problem.
Fosters regeneration of damaged strands.
Delivers heat protection and shields against the sun.
Eases hair styling by smoothing hair structure.
Improves the general state of hair, including its appearance.
Ingredients: The composition of Nanoil Argan Oil is made of 100% cold-pressed, unrefined, Ecocert-certified argan kernel oil. This product is free from additives, synthetic odorants, colorants and silicones. Thanks to this, the oil is effective and completely safe to use. Its positive action is owed to the substances naturally occuring in pure argan oil – omega acids, vitamin E, phytosterols and squalane to name just a few.
Formula, fragrance, efficiency: Argan Oil has slightly nutty, fairly neutral and very subtle aroma. Its consistency is light enough – despite being oily – to penetrate hair and skin in no time without leaving the greasy feel; it works form the inside. Apart from this, Argan Oil by Nanoil is maximally effective because just a few drops are needed to cover hair length and scalp thoroughly.
Where to buy: Nanoil Argan Oil – which is a high quality product – should be bought on the official website because only this ensures getting the original and natural product.
Summary: If you're looking for a multi-tasking product – which takes care of both hair and skin – then this argan oil is right for you! Just bear in mind to choose a high quality cosmetic such as Nanoil Argan Oil that is cold-pressed and unrefined. Only this guarantees you supplying hair with 100% nourishing substances originating straight from nature.
Do you know that… Nanoil Argan Oil owes its action to Argania Spinosa kernels certified by Ecocert, which puts it on a higher position among other, often fake argan oils.
Pros:
100% natural, organic, certified
cold-pressed and unrefined
suitable to treat hair, body, face and fingernails
easy to be used in numerous ways
has anti-aging effect
protects hair, regenerates and beautifies
is natural UV filter
highly efficient and non-overburdening
Cons:
available online only
slightly inconvenient pipette tip