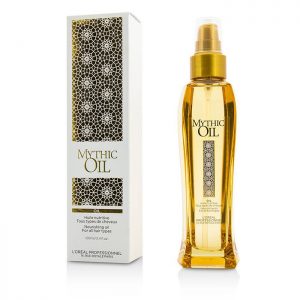 L'Oreal Mythic Oil is recommended for all hair types, especially for colour-treated, shineless, frizzy, damaged hair and hair extensions. If this is what your hairstyle looks like, don't hesitate any longer and try out this cosmetic. You will be positively surprised by the results. Dash to the store and begin the treatment.
Application: Use L'Oreal Mythic Oil as often as needed. Apply it to dry strands or before styling. Two or three drops of the oil are enough to condition and style the hair. L'Oreal Mythic Oil can be applied onto entire length of hair or exclusively to hair ends. Choose the amount that matches your hair thickness and its condition. The shorter the hair, the smaller amount you need.
Action: It takes care of all hair types, regardless of its colour, length, thickness and texture. What properties does L'Oreal Mythic Oil have? The cosmetic excellently brightens, smooths and prevents frizz. What is more, it prevents static, makes styling easier and tames even most unruly strands. It will make your hair perfectly styled, soft to the touch and deeply moisturised and nourished. If you have split ends, L'Oreal Mythic Oil is especially for you. The product takes care of hair ends as well as the hair and scalp. Natural ingredients will condition your hairstyle.
Ingredients: L'Oreal Mythic Oil contains avocado oil and grape seed oil. They deliver substances that are essential to repair, nourish and moisturise the hair. Avocado oil offers as many as seven vitamins and lots of minerals. It hinders hair loss and enhances hair bulbs. Grape seed oil is rich in vitamin E which hinders baldness and greyness. It also has antioxidant and strengthening properties.
Formula, fragrance and efficiency: L'Oreal Mythic Oil has a light consistency. It neither overburdens the strands nor makes the scalp greasy. The fragrance is nice and long-lasting whereas the colour – light yellow. It is very efficient – one bottle holds 125 ml of the oil.
Where to buy: L'Oreal Mythic Oil can be found at good hair product stores. But buying it online is the easiest way. It is available at many online auctions and stores. It is sold by cosmetic shops on the Internet. How much is the product? The price of L'Oreal Mythic Oil isn't high. There are websites which offer lower prices than the manufacturer of L'Oreal Mythic Oil.
Summary: If you desire a perfect and beautiful hairstyle or you have damaged hair due to regular dyeing and heat styling – L'Oreal Mythic Oil is especially for you. Easy application, immediate effects and natural ingredients are the assets of the product. Thanks to antioxidant substances, included in the oil, you hair will stay healthy, pretty and strong for a very long time. Are you still wondering if the product is for you? The Internet is abounding in opinions about L'Oreal Mythic Oil – read them. Comments of girls who have used it are going to help you make the right choice.
Do you know… Grape seed oil is a natural antioxidant. It neutralizes free radicals which weaken condition of your hair and scalp. Therefore, it prevents premature greying, baldness and excessive hair loss. It also nourishes and moisturises the scalp.
Pros:
conditions all hair types
extremely easy application
moisturises, nourishes and regenerates
efficiency
stops hair loss
contains antioxidants
helps to style
takes care of hair ends
cons:
only regular use brings effects