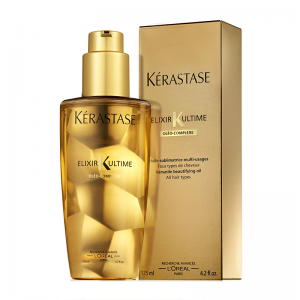 Four plant oils in one cosmetic! They come from different corners of the world: Central Africa, North Africa, Amazonia and Asia. Each of them has different qualities, therefore the cosmetic delivers complex care for hair and scalp. Try out Kerastase Elixir Ultime and check if it will condition your hairstyle.
Application: There are numerous methods of application and each of you will surely find a suitable one. How to use Kerastase Elixir Ultime? Apply the oil before washing and leave in for more or less 15 minutes. If you want to nourish and moisturise your hair, apply the oil to the entire length of hair and the ends after washing. It is much easier to detangle damp strands. You may as well apply it before blow-drying or straightening in order to style and protect from heat. Apply one drop of the oil every morning to detangle the hair easier.
Action: Kerastase Elixir Ultime combines the power of four plant ingredients. They make your hair nourished, soft and shiny. Impurities will no longer threaten your hair, you will find fewer hairs on your brush and you will say goodbye to scalp diseases. Kerastase Elixir Ultime protects your strands from the action of UVA and UVB radiation.
Ingredients: Kerastase Elixir Ultime contains: corn oil, argan oil, pracaxi oil and camellia oil. The first one is a natural antioxidant, the second one protects from harmful damaging factors, the third one deeply nourishes and the last one smooths and adds shine.
Formula, fragrance and efficiency: Kerastase Elixir Ultime has an intense vanilla scent. It is very efficient. One bottle holds 125 ml of the liquid. The consistency is semi-liquid.
Where to buy: Kerastase Elixir Ultime hair oil is available at online stores and on the manufacturer's website. You can also get it in hair salons which deal with Kerastase. What is the price of Kerastase Elixir Ultime? It is one of the most expensive cosmetics in the ranking. Nevertheless, many girls praise its action and declare to buy another bottle.
Summary: Nice packaging, interesting components, easy application and effects observed after several applications. The product facilitates hairstyling and provides heat protection – it will surely help girls who have damaged, dull and weak hair. If you're still hesitating, read opinions about Kerastase Elixir Ultime – maybe other girls will convince you.
Do you know… Pracaxi oil is the least common oil used in cosmetics. It contains behenic acid which strongly moisturises and regenerates. It also nourishes, smooths and adds gloss.
Pros:
very efficient
natural antioxidant substances
protects, nourishes and moisturises
facilitates detangling
adds shine to damaged hair
nice bottle
Cons:
vanilla scent doesn't appeal to everyone
choosing a suitable application method can be a bit troublesome
improperly applied, it won't bring good effects
hard to find at stores
various opinions online