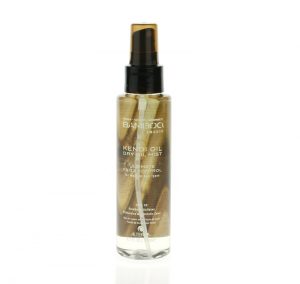 If you often style your hair or your strands are frizzy, try out ALTERNA Bamboo Smooth Kendi Oil Dry Oil. It splendidly takes care of strands and improves their condition. The product is designed for normal hair. You have such hair? This oil is for you! You won't have to wait long for the effects.
Application: ALTERNA Bamboo Smooth Kendi Oil Dry Oil is applied prior to styling. Apply a small amount of the cosmetic to damp strands and style as usual. A dryer equipped with a diffuser is going to fix the hairstyle and prevent damage caused by heat. You can also use the oil if your hair is frizzy and dull. If you have such problems, apply ALTERNA Bamboo Smooth Kendi Oil Dry Oil to dry hair. The product will be instantly absorbed and will condition your hairstyle. During the application, be careful not to let the oil get into your eyes – it may cause irritation and redness of skin of the eyelids.
Action: It is useful as a style primer and heat protection. What is more, ALTERNA Bamboo Smooth Kendi Oil Dry Oil reduces static, adds shine and emphasizes natural hair colour. The oil nourishes, enhances and repairs split ends. It protects hair from dampness and UV radiation. It makes hair soft, smooth and shiny. Girls who often straighten or blow-dry their hair are going to like this protective action of ALTERNA Bamboo Smooth Kendi Oil Dry Oil. Exotic ingredients provide hair and scalp with excellent care.
Ingredients: There are two oils included in ALTERNA Bamboo Smooth Kendi Oil Dry Oil: bamboo oil and kendi oil (extracted from Indonesian tree). The first one – bamboo oil – has moisturising, antioxidant, enhancing and repairing properties. It works perfectly for damaged and weak hair. Kendi oil rebuilds, moisturises and nourishes. It protects from UV radiation and soothes irritation.
Formula, fragrance and efficiency: ALTERNA Bamboo Smooth Kendi Oil Dry Oil has a light yellow colour. We can smell aroma of white Gossypium flowers with a delicate citrus note. This original scent stays on hair very long. One bottle offers 125 ml of the oil.
Where to buy: ALTERNA Bamboo Smooth Kendi Oil Dry Oil is available at many stores and online shops. You must simply look for it. You will also find it at perfumeries and shops with professional hair products. The price is a bit higher in comparison with its smaller version described further in the ranking. Nevertheless, it is worth testing.
Summary: You often style your hair and want your hairdo to have a dream look as long as possible? ALTERNA Bamboo Smooth Kendi Oil Dry Oil is definitely going to help you. Perfect formula which guarantees easy application, beautiful fragrance, amazing properties and fast action- these are the features that make the oil stand out among other products presented in this ranking.
Do you know… One of the ingredients is bamboo oil – an exotic substance which is perfect for conditioning thick and long hair. It contains flavonoids – compounds which slow down ageing processes of the skin and hair.
Pros:
recommended for all hair types
contains kendi oil and bamboo oil
rebuilds damaged and dry hair
nice fragrance
protects from dampness and sun
quickly absorbed
helps to style
Cons:
be careful, if the oil gets into your eyes, it will cause irritation