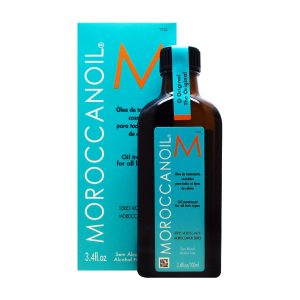 It contains one of the best cosmetic oils – argan oil. That is why, MoroccanOil Treatment is so popular among girls. If you're curious how it would work on your hair, start the treatment today. You will surely be satisfied with the performance of the ingredients included.
Application: MoroccanOil Treatment can be used separately or added to a mask or conditioner. Did you know that? If not, it's hight time to try out this method of hair care. Apply one or two pumps to damp hair, from the mid-lengths to the hair ends. Next, blow-dry with cool airflow or let it air-dry. If you have split ends or frizzy strands, apply the oil after washing and blow-drying. MoroccanOil Treatment will bring spectacular results.
Action: MoroccanOil Treatment delivers extraordinary shine and nourishment. Moreover, it offers antioxidant properties – fights off free radicals, slows down ageing processes. The product makes detangling and blow-drying easier, smooths frizzy wisps and adds softness. Nutrients provide hair and scalp with complex care. The oil can condition all hair types – especially the strands damaged due to regular blow-drying, dyeing or straightening.
Ingredients: Argan oil is the major component of MoroccanOil Treatment. It is rich in vitamin E called the vitamin of youth which protects from the action of harmful substances, UV radiation and environmental pollution. It enhances hair bulbs, rebuilds split ends and gives strands shine. Argan oil has healthful properties as well. It contains essential unsaturated fatty acids, including omega-9, omega-6 and omega-3. They provide proper condition of hair and scalp.
Formula, fragrance and efficiency: MoroccanOil Treatment has an intense yellow colour and characteristic scent of Argania tree nuts. The cosmetic comes in a dark glass bottle of 100 ml capacity. The product is efficient – it allows for several dozens of applications.
Where to buy: You can buy MoroccanOil Treatment online. Numerous online shops offer the product. Is the oil available at drug stores? Sadly, finding it won't be an easy task. The price of MoroccanOil Treatment depends on the capacity of the bottle. It is probably too high for most girls. However, experienced hair maniacs will tell you that: the more expensive the cosmetic, the better the quality.
Summary: One of the product's ingredients – argan oil – is going to encourage you to buy it. It is the most valuable substance used in cosmetics. It offers enhancing, nourishing and antioxidant action. It helps to keep young look as well as provides proper condition of the hair and the scalp. If this is the hairstyle you desire to have – test MoroccanOil Treatment. It is bound to bring satisfactory results.
Do you know… Argan oil is one of the most expensive substances used in medicine, cosmetology and cooking. You need 35 kilos of fruits and eight hours of work in order to extract one litre of oil. Argan oil is produced with a traditional or mechanical method.
Pros:
works as an antioxidant
contains natural ingredients
dark glass bottle
holds up greying and baldness
nourishes, repairs and adds shine
helps to detangle and blow-dry
oil is very efficient
Cons:
available exclusively online or at stores with professional hair products
the bigger the bottle, the higher the price