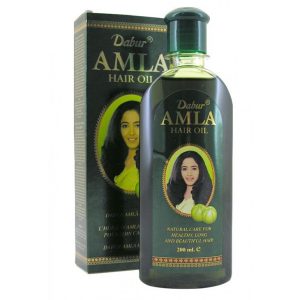 Indian women use Dabur Amla oil in their daily hair care routine. The oil excellently takes care of your scalp and strands. Indian gooseberry (amla) included in the product makes your hair look always beautiful and the treatment will be really nice. Try it out!
Application: How to use Dabur Amla hair and scalp oil? You will get the best results if you perform an overnight treatment. Apply it onto hair and scalp and massage for more or less ten minutes. Put on a shower cap and warm hat; leave the oil in for the whole night. Wash your hair thoroughly with a delicate shampoo in the morning.
Action: Dabur Amla hair and scalp oil combines the action of amla fruits and other Indian herbs. It provides enhancing, anti-dandruff and anti-inflammatory properties. It stops hair loss, soothes dandruff and helps to treat various skin diseases. What is more, the product delivers bounce, adds natural shine and splendidly moisturises. It coats your hair with an oriental fragrance of Ayurveda herbs for a very long time.
Ingredients: Indian gooseberry (amla) is the most important ingredient of Dabur Amla hair and scalp oil. Unfortunately, it is at the end of the components. There are larger amounts of palm oil, fragrance substances and paraffin. No wonder the oil doesn't bring any benefits to some of the users. On the contrary: it makes hair greasy and irritates the scalp. How will Dabur Amla work for your hair?
Formula, fragrance and efficiency: Dabur Amla hair and scalp oil is semi-fluid and… green. Its characteristic intense and unpleasant scent makes it stand out among other oils described in the ranking. Luckily, the aroma vanishes after washing hair.
Where to buy: The price of Dabur Amla oil is very low. It is said that the price reflects the quality but if you are satisfied with the action of the product – buy another bottle. Where can we buy Dabur Amla hair and scalp oil? Check healthy food stores, manufacturer's website and online stores.
Summary: Dabur Amla is an Indian conditioning oil. It has a characteristic scent which may discourage most of you. Nevertheless, Dabur Amla treatment makes your hair bouncy and silky smooth. If you haven't decided whether to buy it or not, there are lots of opinions about the product – they may help you.
Do you know… Hair oiling is a beauty treatment offered by most hair salons in India. Women undergo the treatment at least once a week. The effects are spectacular: smooth, soft and shiny hair.
Pros:
smooths and adds shine
designed for hair oiling
brings resilience
contains Indian plants
Cons:
low price is adequate to quality
unpleasant fragrance
not always brings positive effects: may cause irritation
can make hair greasy
contains fragrance substances, paraffin
no applicator attached