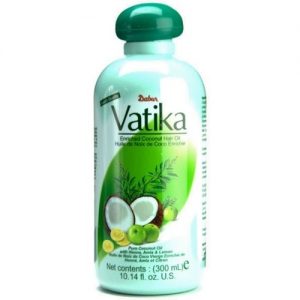 It is one of the oils which can be applied both to hair and scalp. It excellently conditions strands and treats dandruff. It contains herbs used in Ayurveda – traditional Indian medicine. If you want to know how Indian women take care of their hair, you must try out Dabur Vatika coconut hair oil.
Application: Before use, heat up the bottle of Dabur Vatika coconut oil in warm water. Why? Coconut oil has a solid consistency – it turns into liquid in temperature little above 20°C. Heating it up makes the application easier. Dabur Vatika oil should be applied two or three times a week, for three months. You will see the first effects after more or less four weeks. Rub the cosmetic in the scalp and hair before sleep; wash your hair thoroughly in the morning.
Action: Dabur Amla coconut hair oil strengthens hair and makes it less prone to damage or falling out. Moreover, the product offers anti-dandruff properties and soothes irritation and diseases of the scalp. The cosmetic is bound to help girls who change hair colour or lighten their strands. If you rub it regularly in the scalp, you will stimulate the growth of new hair. You will see lots of baby hairs after several weeks of the treatment.
Ingredients: As it is an Indian coconut oil, it contains lots of natural ingredients, including: neem, amla, brahmi and henna. The cosmetic also contains rosemary oil, lemon oil and milk. Indian plants deliver shine and smoothness. Lemon controls the work of sebaceous glands and reduces dandruff. Rosemary oil offers antiseptic and soothing action. Henna defines natural hair colour and has darkening properties.
Formula, fragrance and efficiency: Dabur Vatika coconut hair oil has a thick consistency and changes into a liquid when heated up. Its scent is different from other Indian oils. You can smell a coconut aroma. One bottle holds 200 ml of the liquid, which is enough for several months of the treatment.
Where to buy: Dabur Vatika coconut hair oil is hard to find. You can buy it on the official website of the manufacturer and online stores. Luckily, it is cheap and you won't pay much for the shipment. The price depends on the capacity.
Summary: Would you like to try an oil which is based on plants used in traditional Indian medicine? If you would, you must test Dabur Vatika. Opinions about the product are also encouraging. The biggest asset of the cosmetic is that it works both on hair and scalp.
Do you know… Indian cosmetics are created in accordance with traditional medicine – Ayurveda which requires the following plants in hair care: amla, neem, brahmi and shikakai. The combination of these plants provides your hair with optimal conditioning.
Pros:
natural ingredients
helps to fight the dandruff
stops hair loss
makes hair shiny and smooth
ideal for hair oiling
Cons:
thick consistency
poor availability
heating up makes the application longer
may darken hair colour