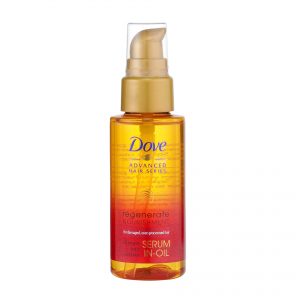 Serum and Oil in one? Why not! Thanks to such a combination, your hair will be stronger, regenerated and deeply nourished. If you want to find out if it's true, try it out today. The application is really pleasant and the effects – delightful. Learn about the properties and performance of Dove Serum-In-Oil.
Application: Apply a few drops of Dove Serum-In-Oil right after washing and rubbing down your hair. Rub the cosmetic between your palms so that it can spread easily and absorb better. Then, apply the oil to the entire length of hair; more oil onto hair ends which are most prone to damage. If you apply Dove Serum-In-Oil to dry strands, it helps to reduce frizz and static as well as delivers natural shine.
Action: If your hair is damaged due to colouring, regular blow-drying or straightening, Dove Serum-In-Oil is for you. The product protects from heat, drying substances included in dyeing products and damage caused by UV radiation. It prevents static hair and split ends. The oil is perfect for lightened, weak and very damaged hair. It makes the strands soft and smooth as well as restores natural-looking shine. During the treatment your hair becomes noticeably healthier and prettier.
Ingredients: Dove Serum-In-Oil contains palm oil, coconut oil, sweet almond oil and sunflower oil. Sadly, their amount is very small. There are more fragrance substances, mineral oil and two silicones. If you want to protect your hair during styling, you can test Dove Serum-In-Oil. But if you want complex care, the silicones can make it impossible.
Formula, fragrance and efficiency: Dove Serum-In-Oil has a very nice fragrance which stays long on hair. One bottle holds only 50 ml of the oil – it is enough for several months of treatment.
Where to buy: Dove Serum-In-Oil is easily available. You can buy it both at drug stores and on the Internet. You ma also find it in stores selling professional hairstyling products. What is the price? The cosmetic costs very little in comparison with other oils in this review. Which one are you going to choose? Remember to check if the action, properties and ingredients meet the needs of your hair before buying a product.
Summary: Dove Serum-In-Oil is recommended for those who often use heat styling tools and need hair protection. Unfortunately, the product doesn't provide enough conditioning. Maybe, the comments and opinions of other users will convince you.
Do you know… Serum is a cosmetic which offers a high concentration of ingredients. They make your hair healthier and more beautiful as well as provide deep nourishment, restoration of inside hair structure and repair of hair bulbs. Does Dove Serum-In-Oil work this way?
Pros:
it works like an oil and a serum
reduces frizz and static
contains: almond, sunflower, coconut and palm oils
widely available
Cons:
small capacity
treatment is very short
contains mineral oil and silicones
low price reflects low quality
not recommended for greasy hair