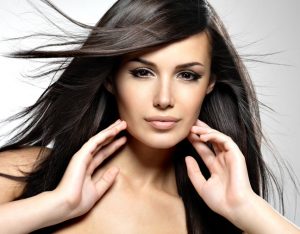 The structure of our hair is one of the most reliable criteria allowing us to choose the right hair care products. Hair thickness determines other important features of hair, for example its porosity. Therefore, we should take a closer look at its diameter and distinguish what type of hair we have to deal with and how to properly take care of it.
1. THIN HAIR.
Nearly half women and men worldwide have hair with such structure. The strands are soft to the touch, delicate, and uneasy to style. Thin hair has the tendency to become greasy at its roots and frizzy on fragile and prone to damages ends. Unfortunately, this hair type is a lot easier to harm. It is sensitive to drying and straightening and to any types of styling. In the case of weakened hair you should be very careful not to overdo it with care or not to weigh it down.
Thin hair is fond of proteins, herbs (in the form of rinses or mists), dyed with gentle products such as henna or cosmetics adding volume and natural oils.
Natural oils must be matched to the hair condition and the problems the owners of such hair type must face. If your scalp is greasy, jojoba oil will be a good solution. This oil contains a very valuable and unique ingredient called squalane. It is a substance that is also a component of human sebum and is responsible for regulating processes taking place on the scalp. It is a good idea to put a little bit weight on dry ends to prevent frizz. The best solution is to use oils. How to do it? simply rub it against your ends, in this case you can use castor oil, black seed oil, pumpkin oil or corn oil. Their consistency is rather dense, thanks to which, they are perfect for taming unruly strands and conditioning dry and frizzy wisps.
Furthermore, in the case of thin hair, it is advisable to apply oils on hair dampen with herbal rinses, such as: chamomile, nettle, horsetail.
2. MEDIUM DENSE HAIR.
In other words hair of medium thickness. It is neither thin nor thick, and it may have different abilities, depending on how we handle it. Therefore, it can be greasy, but also very dry, scalp can be easily irritated. Such hair type can have slight waves or be completely straight. It is rather difficult to take care of such strands due to the fact that they require a constant balance between proteins, emollients and all kinds of humectants. The good news is that they are easy to style.
Natural oils provide the best care. Oils will not only protect hair on the surface but also nourish and regenerate, providing the proper dose of moisture.
Medium dense hair have medium porosity. Therefore, the most suitable oils are: almond, macadamia, peanut, sesame, olive oil, avocado and argan.
3. THICK HAIR
Such hair is stiff with high volume. If you try to put a thin hair and a thick one on a piece of paper – the first one would be almost invisible. Usually, thick strands have low porosity and a tightly bound cuticle layer with overlapping scales that lay flat. This prevents some substances from penetrating to the inside. Only products with small particles are able to nourish thanks to the ability to penetrate through the tight cuticle layer. This type of hair is a lot more difficult to damage and takes colour-treating quite well. Thick strands do not like proteins but prefer emollients and moisturising humectants.
For thick hair, oils designed for low porosity are especially recommended. Those are: coconut, babassu and palm oil.