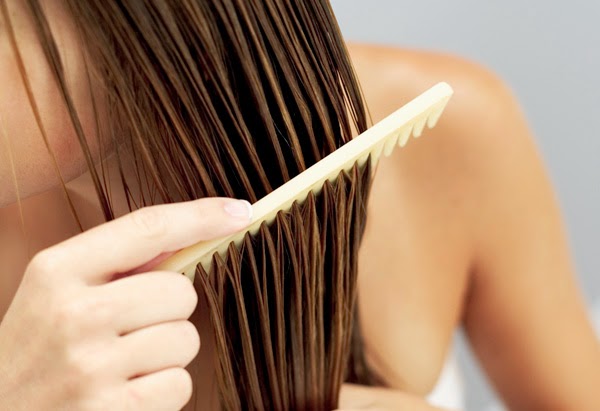 Scalp is the most commonly skipped element of hair care. Indeed, we wash it with a shampoo (not always chosen correctly), but that is all. Hair conditioner is applied on hair, omitting hair bulbs and scalp… and this is were it all begins after all. Healthy, strong, growing fast hair are a result of taking care of scalp and hair bulbs. Thanks to it we also avoid problem of excess sebum secretion, or dryness as well as hair loss.
How to properly take care of scalp and how to nourish it, so that you can provide hair with great condition, strength and gloss?
1. DO NOT IRRITATE IT
There are many factors that can cause irritations to the skin. It can be done mechanically: by combing too much and pressing comb with sharp pins too much against scalp, or by scratching it with metal hair accessories while executing some hair style (a hair grip and a bobby pin). Another matter are wrong cosmetics causing scalp irritations or allergic reactions. Try to choose delicate products, based on natural ingredients. Remember also that many hair dyes can irritate scalp, so it is important to perform allergy test on the skin fragment in the area of the body that is not that visible, like elbow joint. Beside ammonia in hair dyes, harmful is also alcohol. Frequent use of cosmetics on its base can lead to dryness of both hair and scalp.
2. MASSAGE THE SCALP
It is the best, fastest and most affordable treatment, that can be performed for the health of scalp and hair. It not only boosts blood circulation in the tissues, but also delivers oxygen to the hair bulbs, so prevents hair loss. If you expect fast results, massage must be regular and on daily basis. It does not take too much time, only 5-10 minutes. It can be done while watching TV or washing the hair.
Scalp massage is always performed with clean hands and fingertips (be careful not to irritate skin with fingernails). Always start at the hair line and step by step move towards the neck.
Perfect treatment that can (or even should) be combined with scalp massage is hair oil treatment. Natural oils are substances, that in great way take care of scalp and nourish hair bulbs. Chosen oil apply on scalp and hair, then proceed with delicate, slow massage. This way you provide hair bulbs with oxygen, but also allow oil to penetrate inner structure. Vitamins, minerals and essential fatty acids contained in oil will be better absorbed and nourish hair.
3. BRUSH HAIR WITH RIGHT TOOLS
Plastic comb with narrow teeth is not a good idea. Most hairbrushes also causes more wrong than good. They pull out hair, lead to frizz and fly-away hair. If you want to provide hair with right protection and avoid damage to them, choose products that are safe to them or even strengthen through scalp massage. Hair accessories that can ensure it are: Tangle Teezer or wooden comb made of neem wood (choose wide-tooth comb for easier detangling of strands after hair wash and to evenly apply conditioner on hair).