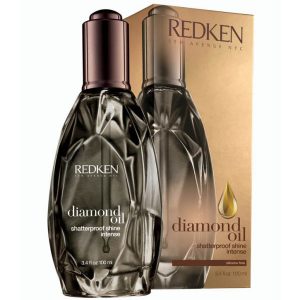 Redken Diamond Oil is intensive therapy for very damaged hair. If you have noticed split hair ends, dry and brittle strands and your hair is shine-less – don't hesitate any longer and try out this oil. You will certainly be satisfied with the results of the treatment.
Application: Rub two or three drops of the oil between your hands and apply to hair. Use the cosmetic as an overnight treatment but remember to wash your hair in the morning. The oil works perfectly when you add it to a mask or enrich the ingredients of a conditioner. Redken Diamond Oil can also be applied to damp hair to make blow-drying easier or onto dry strands to smooth them and add shine. Remember not apply the oil on the scalp and hair bulbs.
Action: If your hair is very damaged and weak, Redken Diamond Oil is bound to help. How does the oil work? It helps to style your hair, tames and smooths the strands. It delivers natural-looking shine, protects from the effects of heat styling and facilitates detangling. What is more, the oil reduces static and frizz as well as penetrates inside the hair where it provides moisture and nourishment.
Ingredients: Redken Diamond Oil contains three oils which will provide your hair with an excellent condition, make it beautiful and healthy. Peach oil conditions and adds shine. Camellia oil brings out natural beauty of your hair whereas coriander oil offers smoothing and anti-septic properties.
Formula, fragrance and efficiency: Redken Diamond Oil has a semi-fluid and delicate consistency. One bottle holds 100 ml of the oil – the amount enough for a few months of treatment. Besides, the oil has a light gold shade and an intense pleasant fragrance.
Where to buy: Redken cosmetics are one of the most expensive products. The price of Redken Diamond Oil is probably the highest in this ranking. Would you like to buy it? If you would, check online portals and some hair salons. Look also in large cosmetic shops. Obviously, it is much better to do the shopping at home.
Summary: Opinion is the most precise way of describing the cosmetic. Some women praise Redken Diamond Oil whereas others don't. The combination of three oils (peach oil, camellia oil, coriander oil) is a quite original idea of the manufacturer. If you're curious whether it is going to help your hair and scalp – test the cosmetic.
Do you know… Coriander oil is beneficial to the hair and to the scalp. It facilitates removing toxic substances from the body and helps to fight various diseases, including: sore muscles, rheumatism, problems with eyesight.
Pros:
oil can be applied in a few ways
makes hair smooth and shiny
anti-septic action
light consistency
nice fragrance
Cons:
hard to find at drug stores
manufacturer doesn't provide full information about the ingredients on the website
intense scent may be discouraging