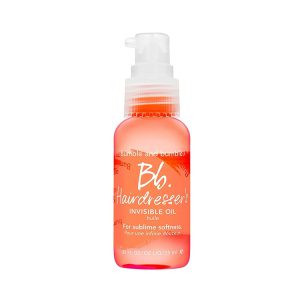 It is designed for all hair types, also colour-treated. The best about Bumble and bumble Invisible Oil is that you can apply it whenever you want or need. Thanks to the product, it is possible to create even most complicated and way-out hairstyles. Curling hair and clipping the strands is no longer difficult!
Application: A tiny amount of the oil is enough to style your hair. Apply Bumble and bumble Invisible Oil to wet hair, blow-dry for a shiny and smooth hairstyle. Your hair ends are damaged and split? Apply the oil to dry strands. Every method of application is going to give you dream effects. Girls, who have problems with doing a hairstyle, will be satisfied with the performance of Bumble and bumble Invisible Oil. The cosmetic is mostly recommended for curly and wavy hair.
Action: Bumble and bumble Invisible Oil delivers gentle shine and smooths frizzy wisps. It perfectly softens, nourishes and moisturises. What is more, the oil tames unruly strands, prevents tangling, helps to detangle and get your hair done. Moreover, it defines and fixes the curl and helps you to do any hairstyle. Bumble and bumble Invisible Oil contains lots of natural ingredients which take care of hair as well as scalp.
Ingredients: Bumble and bumble Invisible Oil includes: coconut oil, macadamia oil, sweet almond oil, grape seed oil, sunflower oil, gardenia extract. Thanks to these substances, your hair will be splendidly nourished and conditioned.
Formula, fragrance and efficiency: Bumble and bumble Invisible Oil offers an exotic vanilla-coconut aroma. It is transparent. At the beginning of the application, you may have an impression that the oil sticks your hair; luckily, this feeling passes quickly. The oil is quite efficient – one bottle holds 100 ml of the oil.
Where to buy: Bumble and bumble Invisible Oil is available at the largest perfumeries. Also online shops sell the oil – you will easily find them. You may also buy the product on the official website of the manufacturer. What is the price of Bumble and bumble Invisible Oil? It is quite high and not every girl will be interested in the product.
Summary: Styling, brushing, conditioning. These action will be easier when you use Bumble and bumble Invisible Oil. If your hair is curly or wavy, this cosmetic is especially for you. Stop wondering if it's good for you – go to the store and start the treatment today. If you're not sure, read opinions about Bumble and bumble Invisible Oil.
Do you know… The shape and position of hair follicles determine whether your hair is curly. Curls and ringlets get frizzy much more often than straight hair. Keep in mind that a fringe doesn't look good with curly hair and there's no need to fix natural curl with a curler.
Pros:
beautiful fragrance
easy to apply
recommended for all hair types, especially for curls and waves
facilitates hairstyling
contains natural plant ingredients
available at stores and online
Cons:
temporary feeling of sticky hair
poorly moisturises hair ends
large bottle is hard to hold in the hand